OUR STORY
Supporting High-Impact Entrepreneurs To Dream Bigger, Scale Faster And Pay It Forward
Endeavor Greece was launched in 2012 as part of the global Endeavor Network to support high-impact entrepreneurs. Founded in the beginning of a critical economic turmoil, Endeavor Greece aimed to serve the country's entrepreneurship and help it flourish at the exact moment it was most needed.
Since then, we have been at the epicenter of the Greek Innovation Ecosystem, by facilitating local and global entrepreneurial development through mentorship, services, and programs that help innovative founders enter hard-to-access emerging markets, and make economies thrive.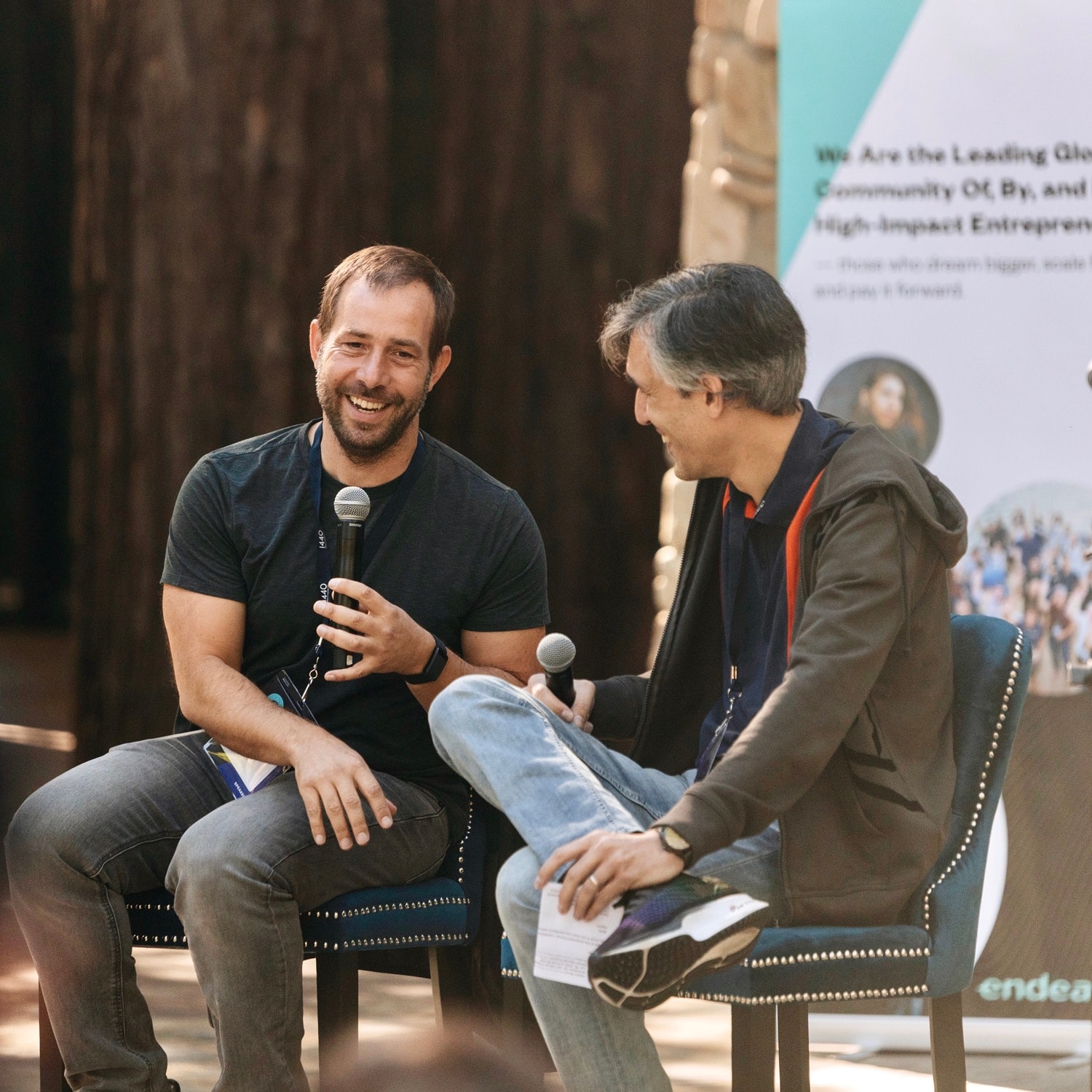 OUR ACTION
We utilize our high-level network to accelerate the Greek Innovation Ecosystem and position its high-impact entrepreneurial stories on the global map.
Operating in an emerging and once underserved market, we have built a thriving entrepreneurial ecosystem that we aspire to constantly and efficiently support towards growth and success.
Our primary goal is to create a Multiplier Effect by inspiring high-growth founders to dream bigger, supporting and investing in them to scale faster, and providing them with a platform to pay it forward — and thereby amplify their individual impact.
/
Our values guide our brand and mission, paving our community's path to growth and development.
Entrepreneur First
Endeavor Entrepreneurs are at the center of everything we do, and we make sure to always have their back.
Network of Trust
We are a community built on mutual respect, always safeguarding founders' interests.
Go Big
Crazy is a compliment. Risk is an opportunity. Impact is unlimited.
One Endeavor
We are borderless — unified by our belief in the power of entrepreneurship and tech-enabled innovation
Pay it Forward
We multiply our impact by empowering the next generation of founders.
Always Agile
We are dynamic and flexible, adapting to changing market dynamics and fresh data points.
"Sustainable economies are dependent on high-impact entrepreneurship. What Endeavor does better than any other organization is to create entire cultures of entrepreneurship that spread within and between countries."

Reid Hoffman
Co-Founder, LinkedIn and Partner, Greylock Endeavor Global Board Member Endeavor Catalyst Chairman
---
OUR APPROACH
---
Our Operating Model
We believe that job creation, innovation, and overall prosperity flourish wherever robust support for high-impact entrepreneurs is provided.
Select
We select Endeavor Entrepreneurs by searching the globe, identifying founders with the greatest growth potential, and inviting them to participate in our renowned international selection process.
Support
We support Endeavor Entrepreneurs with our expansive global network, unrivaled peer-to-peer community, and highly-curated services.
Elevate
We elevate Endeavor Entrepreneurs as aspirational role models and provide avenues for them to mentor and inspire others to reimagine what is possible.
Invest
We invest in Endeavor Entrepreneurs through our rules-based fund, Endeavor Catalyst.
Advance
We advance the conversation around global entrepreneurship and innovation through original content, leveraging Endeavor's proprietary data set and insights.
Our Programs
By offering networking opportunities, access to capital and expertise, our programs help high-impact entrepreneurs with talent and innovative spirit to thrive, have a significant impact on their ecosystem and transform economies.
Endeavor Programs
---
Elevating high-impact founders with the greatest potential to inspire the next generations to dream big and transform economies.
Supporting the fastest-growing high-tech companies with prospects for having a significant impact on the future of the Greek Innovation Ecosystem.
Innovation Programs
---
Created by Endeavor Greece and Kotsovolos to bring together promising Retail Tech entrepreneurs from the EMEA region and facilitate their connection with top local investors.
Offering fast-growing Small & Medium Businesses opportunities to broaden their entrepreneurial horizons, develop rapidly, unleash their full potential and generate new jobs.
Our Partners
Let's accelerate the Greek ecosystem together. Get in touch